Five Star Service
An international equestrian tradition is coming to Maryland, and after a year of waiting we look forward to being the Official Caterer of this multi-day event later this month. Best described as an equestrian triathlon, the Maryland 5 Star is one of only two 5 Star Events in the United States and one of seven in the world. The inaugural Maryland 5 Star at Fair Hill will take place between October 14th and 17th at a newly constructed special event zone in Elkton, Maryland.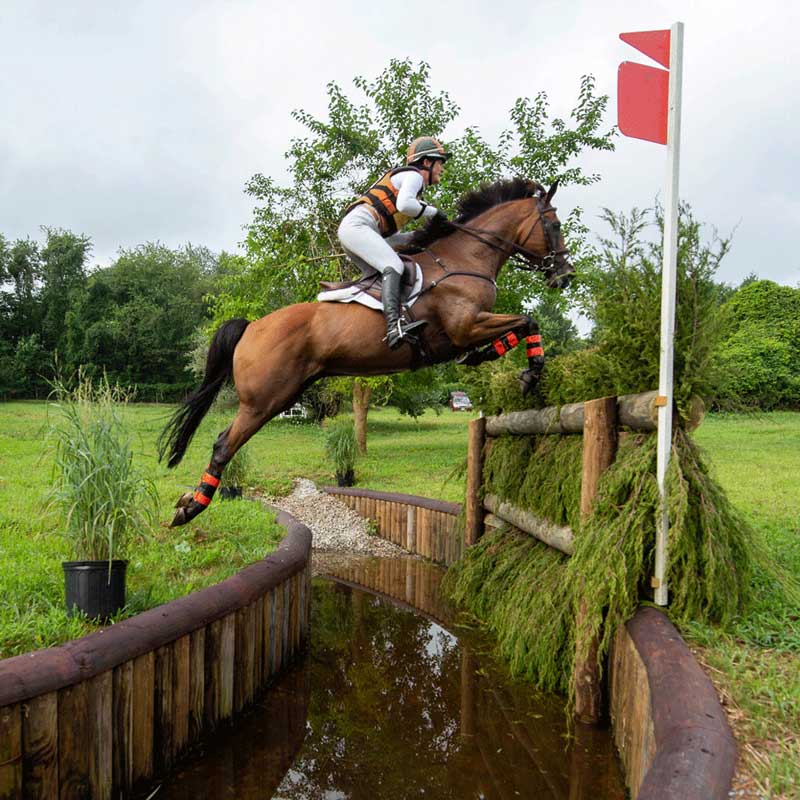 Our team members are excited to meet, greet (and feed!) riders, trainers, spectators. We even have some approved snacks for the horses. Its anticipated reputation has attracted spectators from all over the world in addition to competitors – including royalty! Zara Tindall, granddaughter of Queen Elizabeth II has entered to compete at the event.
Most Marylanders are familiar with the Preakness stakes that run at Pimlico Race Course as part of the Triple Crown in May each year. The Maryland 5 Star event is a horse of a different color, featuring three days of ongoing events, the ultimate test of horse and rider. "The sport originated as a cavalry test and is comprised of three phases: Dressage, Cross-Country and Show Jumping. It is also one of the few sports where men and women compete alongside one another as equals, even at the Olympic-level." The Maryland 5 Star at Fair Hill is produced by The Fair Hill Organizing Committee, an affiliate of the Sport and Entertainment Corporation of Maryland, and in partnership with Fair Hill International. After a year of waiting – we're ready to horse around! And we would love to see you there. Please join us in celebrating this prestigious event: https://maryland5star.us/tickets/
---
Boil, Bubble…
Queimada, the drink of blue fire, is a Galician tradition believed to ward off evil spirits. The Celts who settled in the far northwest corner of Spain believed in witches, magic and evil spirits; and they passed down this tradition which warmed the house and purified the soul. The Queimada ritual is performed on Halloween ("night of pumpkins") and St John's night ("witch's night") in Galicia, as well as at weddings and dinner parties.
In Galicia, the fiery punch is made from aguardiente (fire water) or orujo which has the same base as aguardiente, plus sugar, lemon peel, coffee beans, cinnamon and apple. The aguardiente typically contains fifty to seventy percent alcohol, so it was cooked all day to burn away some of the alcohol.
The ingredients are placed in a fireproof clay pot or hollowed out pumpkin. A long-handled ladle is dipped into the pot, lifted out and set on fire and then dipped back into the pot, setting the pot's contents on fire. The blue flames are ladled back and forth, creating a hypnotic dance of fiery color, as the master of ceremonies recites the conjuro da queimada, the ancient incantation. When the flames die out the warm brew is shared with the participants. "The first sip purifies the soul by banishing out evil spirits. The second sip cleanses the mind of prejudices, and the third will give rise to passion. So drink with caution". Skal. Slainte. Cheers. Health and Happy Halloween.
---
Green is Good
A demonstration of making pandan ice cream introduced us to a whole new world of culinary possibilities. Pandan is an herbaceous tropical plant that has been cultivated for hundreds of years in South and South East Asia. The plant has long sharp leaves which spiral outward from a central stem. The common name is screw pine because of its shape, its also called fragrant pandan in Indonesian and Chinese because of its unique aroma. The flavor profile of pandan hints at rose, vanilla and almond and in fact, it is sometimes used as a vanilla substitute. Pandan partners perfectly with coconut milk and glutinous rice. And for many southeast Asians abroad, the sight of the telltale sign of pandan extract in green tinted desserts like pandan chiffon cake evokes memories of family celebrations.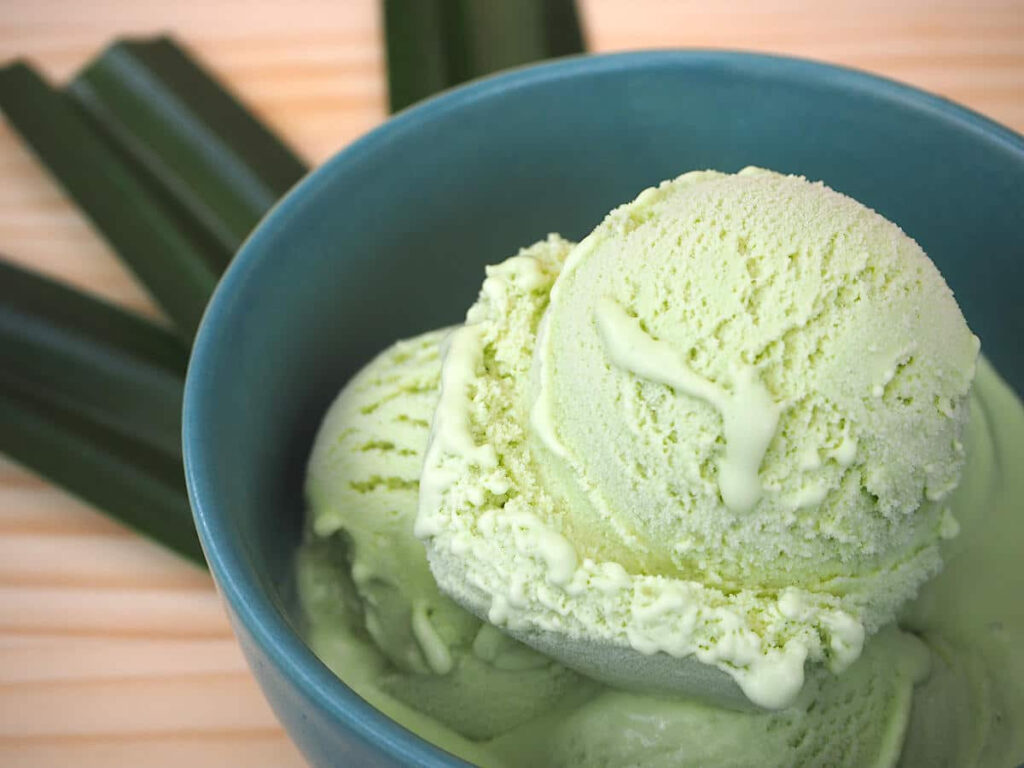 The pandan chiffon cake is a colorful example of successful fusion cuisine. A mid-20th century General Mills chiffon cake recipe published by Better Homes and Gardens most likely traveled to South East Asia via boxes of imported flour. Local flavor and color was added, and by the 1970's, the emerald green cake was ubiquitous throughout South East Asia and by all accounts is still quite popular today.
---
Harriet's Book Pick: Getaway: Food & Drink to Transport You by Renee Erickson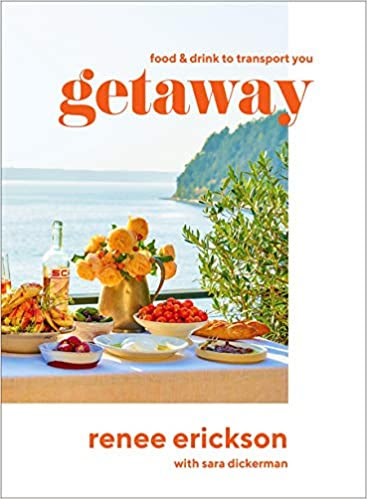 Reading Renee Erickson's new book, Getaway, Food & Drink to Transport You reminds me of dining in one of the chef's Seattle restaurants. Sharing an unpretentious meal with friends at The Whale Wins is a memorable experience. The food and drink is really good and the casual atmosphere is thoughtful, warm and enticing; a neighborhood hangout, honoring the local area and at the same time offering a glimpse of other places. Perusing the chef's new book, Getaway provides a similar experience.
Erickson's philosophy encourages one to slow down, enjoy simple quality ingredients and share the experience. She is spurred on by her curiosity and respect for culture. The chef shares that "travel allows her to see what puts people at ease and what delights them all at once" and she introduces these insights into her restaurants and her books. This cookbook travelogue stops in Rome, Paris, Normandy, London, Baja California, and her hometown, Seattle. The recipes for both food and drink are inviting, but not too intricate; and the photography and hand-drawn illustrations are a lovely addition to Erickson's words. Whether you follow Erickson's footsteps outside the country or to your own backyard, she has offered a warm and easy invitation to share meaningful time with others and with of course satisfying food and drink nearby.
---
A Chicken Dinner…
Chef Mario Raymond
"Why would you do such a thing? Do you not have any chocolate?"
45 minutes to get dinner on the table. I thought, keep it simple. Cast iron roasted chicken, nothing on it but salt. Kale and spinach basmati rice. Make a scallion and tomato beurre….done.
Oh wait, there is broccoli in the drawer. Souffle!
"Stella, grate this cheddar, and Ruby, get 3 eggs, garlic, flour, butter, milk, and one nutmeg."
40 minutes later……
Me: "Stell, you don't like the chicken?"
Stella: (Points with outstretched thumb toward her mouth….) "Chewing." (Giant eye roll…)
Ruby: "This chicken really tastes like chicken!"
"Do you guys have homework?"
Stella: "Souffle should be chocolate. Why would you make souffle with broccoli?"
Chicken:
Preheat oven to 425
1 whole young chicken
Olive oil
Salt
Break the chicken into 4 parts: 2 leg and thigh sections, two breasts. Reserve the back and breast bone cavity, and wings for stock.
Place a large cast iron skillet over medium heat, add 2 tbsp olive oil
Season the chicken quarters liberally with salt, about a tsp for each quarter.
Sear the chicken quarters, skin side down until golden brown, about 8 minutes. Flip and sear for another 4 minutes. Remove chicken to a baking sheet or casserole and put into the oven. Pour the pan jus into a bowl and reserve for the sauce.
Roast, skin side down for 30 minutes. Turn over and roast another 5 minutes.
Rice:
¼ cup onion, finely chopped
1 tsp garlic, finely chopped
1 box of that kale and spinach mix they have in the lettuce aisle. Get the one from the back of the shelf.
Bring 2 cups water, ½ tsp salt to a boil.
Add 1 cup basmati rice, turn the heat down to low and cover. Cook 20 minutes, let rest 5 minutes, fluff with a fork.
While the rice is cooking wash and chop the kale and spinach. Chop it just enough to give it some discipline. In the same pan that you seared the chicken, add the onions and garlic, scrape with a spatula or spoon to get all the nice chicken bits off the bottom. Cook and stir the onions and garlic, but do not let them brown. Add the spinach and kale and cook until wilted, 2 minutes. Season with salt.
Add the cooked rice and continue to cook and stir until the rice starts to brown.
Souffle:
2 tbsp butter
2 tbsp flour
3 eggs, whites and yolks separated
4 cups whole milk
½ tsp freshly grated nutmeg
2 cups grated Irish cheddar ( or any hard aged cheese you might fancy)
1 tsp chopped garlic
1 head broccoli, cut into fleurettes
All of the following steps should be done by begrudging teenagers. They really enjoy cooking, but they equally enjoy pretending that they hate it. It's my job to prepare them for life. Making souffle is pretty much that, well, and doing laundry and changing a flat tire.
Butter a 2 qt (or so) casserole dish.
Bring a large pot of heavily salted (think "ocean") water to a boil.
Prepare a bowl of ice water that the broccoli will fit in.
Add broccoli to the boiling water and cook for 2 minutes until just tender and bright green.
Remove broccoli to the ice water. Let sit 5 minutes. Drain the broccoli and finely chop.
In a 6 qt sauce pan melt the butter and add the flour. Cook and stir, one minute.
Add the milk. Cook and whisk until the milk begins to just thicken.
Meanwhile….whip the egg whites to stiff peaks. Refrigerate.
Whisk the egg yolks just to break up.
Ladle 2 cups of the hot milk into the egg yolks while whisking vigorously. Return the egg yolks to the pan and cook and stir for 2 minutes over low heat. Add the chopped broccoli, shredded cheddar and nutmeg. Whisk in half the reserved egg whites. When the whites are incorporated add the other half but gently fold in with a spatula.
Pour the souffle batter into the buttered casserole and place in a 425 oven (with the chicken.) Immediately turn the temp down to 350. Bake for 30 minutes until the souffle is golden and puffed and does not jiggle.
For the sauce:
1 cup julienne scallions
1 cup tomatoes, quartered
½ cup white wine
1 lemon, zested and juiced
½ stick unsalted butter, cubed
In a 1 qt sauce pan add 1 tsp olive oil. Add the scallions and tomatoes. Cook and stir, one minute. Add the white wine, cook 2 minutes, add the reserved pan jus, lemon zest and juice. Bring to a simmer.
Whisk in butter. Check seasoning. Add salt if necessary.
Dress the chicken with the scallion tomato sauce.
Recommended wine: Bardolino Chiarretto or Rias Baixas Albarino
Next month: Chocolate Souffle