Community Spotlight
Ten years ago, several Baltimore companies, including T.Rowe Price, CareFirst and BGE wanted to commemorate September 11th. They chose to combine their efforts for greater impact and created a joint service project called Together We Serve which is still going strong today. Together We Serve asked Classic to join the group as the lunch sponsor, and we gladly agreed to lend a hand feeding the hundreds of volunteers. The group reached out to The 6th Branch, a veteran-led organization that works in collaboration with leadership in several neighborhoods in East Baltimore, turning vacant properties into green spaces with priorities identified by the community. The 6th Branch and volunteers have removed concrete, debris and trash and have created two community farms, a tree nursery and multiple park spaces as part of their ongoing mission to create green corridors.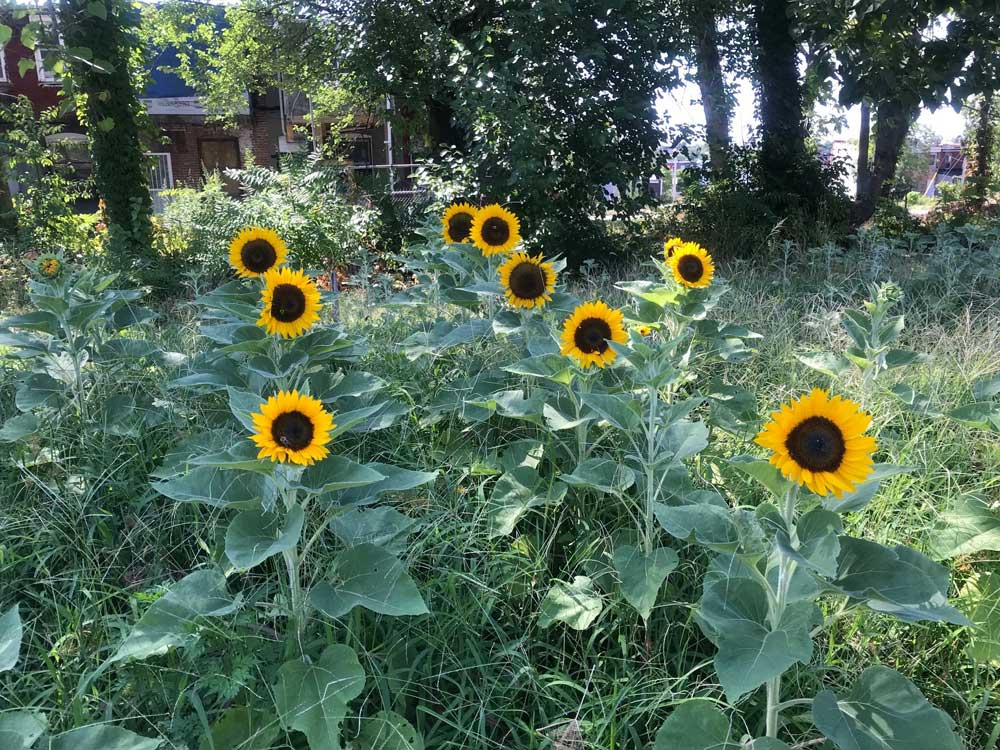 This year, the event will take place on September 10th and involves beautifying the Montford Avenue green corridor located in the Broadway East neighborhood in partnership with the New Broadway East Community Association. Volunteers will be working together to remove concrete and improve the alleyways as part of the larger picture: advancing the tree nursery project. This project has been in progress for about a year and included the planting of 5000 sunflowers back in May.
If you'd like to get involved – contact Scott Goldman: scottgoldman@the6thbranch.org or head over to http://the6thbranch.org/ for more information!
---
The Birds Began to Sing
Once a baker discovers a pie bird, it is hard to resist adding one to their home kitchen. They are adorable, whimsical and a conversation starter. Its forerunner, the pie funnel (vent or whistle) was found as early as the Victorian era and was created to keep the liquid from both fruit and meat pies from bubbling over. In the 1930s, ceramic companies saw an artistic and commercial opportunity and reshaped the https://mcusercontent.com/644d1b81b3b0a35bf9fbe6496/images/d8d56217-a32b-9ba9-ac99-46edbed816f5.jpegfunnels into bird shapes most likely inspired by the nursery rhyme's famous line "four and twenty blackbirds baked in a pie." The first documented pie bird was a rooster sold by the Pearl China Company in Ohio. Once this new form appeared, a progression of shapes was unleashed in addition to birds; all kinds of animals, fruits and vegetables, mythical creatures and mustached chefs. There were even pie birds that allowed the baker to separate two different fillings in one pie.
Sometime after the mid-20th century, the pie bird's popularity waned, but not with our executive pastry chef, Cathy Ferguson or many other home bakers who have inherited the birds and vintage pie pans from their mothers and grandmothers. Using the old-world tool is easy. When it is time to add the top pastry layer, nestle the bird in the filling, cut an x in the middle of the cover and allow the bird to peek out, pressing the flaps of the x around the bird. As the pie bakes and cools, steam shoots out through the beak or head or the corresponding opening of that particular character. Many modern bakers opt to cut slit shapes on the top crust which also allows the steam to escape the pie, achieving the same function as the pie bird and maybe making a crust just as flaky. But the appearance of the old-fashioned pie bird adds another level of deliciousness by eliciting stories, evoking memories and generating smiles. And wouldn't that be a dainty dish…
---
Roving "Cora"spondent
Off-premise caterers frequently create meals in unlikely environments with stripped down equipment. Catering chefs build kitchens in fields, parking lots, hallways and backstage and produce elegant dinners almost magically. So, when we read university student Cora Bainum's article on cooking breakfasts in her dorm room with a mini waffle iron, we recognized a kindred spirit and fellow creative hacker. Cora has been cooking since childhood and we are proud to say she was a student in The Classic Catering People's summer kids cooking classes many years ago. Brava Cora!
https://s3.amazonaws.com/secretsaucefiles/photos/images/000/240/414/large/IMG_6080.jpg?1613936787
"Dash mini-waffle makers have swept the world of Tik-Tok, and let me tell you, they're a game changer. As a college student stuffed in a tiny dorm room, I have no room for kitchen appliances, and honestly, it's a whole outing to venture down to the common kitchen. So, these little four-inch heat sources have upgraded my breakfasts beyond question.
You may be thinking, waffles EVERY morning? Sure, that's delicious, but the other options are endless. Here's a week's worth of breakfast ideas using a mini waffle maker – all with ingredients that are available from the dining hall or your local Kroger.
Savory Side
First off, toasts. Just take a slice of bread, place it in the waffle maker, and top with the flavors of your choice.
My favorite? Avocado toast. To satisfy my Gen-Z identity, I had to invest in an avocado from the grocery store – and at only $0.69 it's totally worth it. Top that toast with an egg from the grab-n-go spot on campus or the salad bar for a little nutritious boost. Following close behind, we have peanut butter-banana, Nutella-strawberry, or a Mediterranean-hummus combo. The best part, the bread will take on the shape of a waffle, making ideal indents for your toppings of choice.
Next up, consider making the classic egg-based breakfast. Just crack an egg into the mini dash and let it sizzle. While you may not get the perfect, runny yolk of your dreams, this waffle-shaped egg will satisfy that morning . Even consider picking up a side of peppers, onions, or cheese from the dining hall's salad bar to add a little extra flavor to these waffly eggs.
Sticking to the savory breakfast options, we have a breakfast quesadilla. While tortillas may be a little harder to get your hands on, let me tell you, it's worth the investment. The taco-sized tortillas are the perfect fit for the mini-Dash. Sandwich the tortilla with a cheese of your choice, veggies, or even eggs, and you'll get an ooey-gooey breakfast. Top it with some salsa from the campus grocer to level it up even more!
Looking to use up some leftovers from yesterday's breakfast or last night's munchies? You can even pop tater tots into the little power appliance for some extra-crispy hash browns.
Sweet Side
Okay, now on to the sweet treats. You may have seen the trends of people experimenting with what a mini-Dash can handle on your #fyp, and cookie dough does not seem to be it. But one of these discoveries was cinnamon rolls. Just find one of those ready-bake cans at the store and pop a roll in the waffle maker. That delicious cinnamon swirl will come out fully cooked and ready to be topped with the classic packet glaze.
Last, but not least, you can use what the mini-Dash's are for: waffles! Get your hands on some pancake/waffle mix and just add water. You'll have some cute four-inch mini waffles. Stack them high for a Sunday brunch with your friends and enjoy!
While some of these may take a little extra effort as compared to the normal cereal breakfast, just think about treating yourself to something hot and flavorful while you sit in your morning zoom class. I promise you, it'll be worth it."
Original article published here at SpoonUniversity.com.
---
Harriet's Book Pick: Simply Julia: 110 Easy Recipes for Healthy Comfort Food by Julia Turshen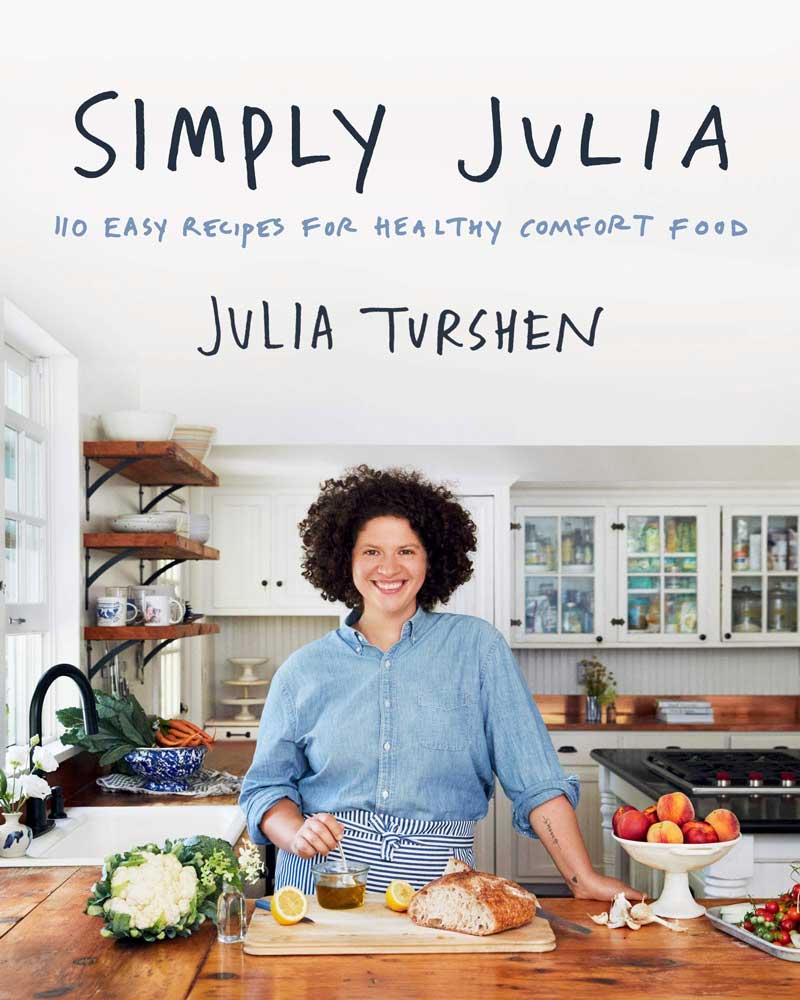 Simply Julia: 110 Easy Recipes for Healthy Comfort Food is a useful companion as we re-enter the back-to-school and back-to-work season. This is the first book I have read by Julia Turshen and I almost missed it because the title felt so worn. But Turshen has carefully chosen the title words and each one is layered with meanings. Her "healthy" refers to the freedom to choose what feels good to eat, to our emotional needs as well as our physical needs, and has nothing to do with deprivation. It does have to do with connecting to the origins of our ingredients, to people, and to gratitude. "Comfort" is found in the memories, nostalgia and in considering the various approaches to the numerous challenges we face in preparing meals for ourselves and our loved ones. And then, she feels at ease.
Julia Turshen is clear that she runs a home kitchen and is not a chef. The recipes are approachable, the ingredients easy to find and affordable as well as fun and diversified enough that this book will be ingredient splattered in no time. Turshen states that "these meals will not wow you but hug you" and believes that delicious doesn't have to be complicated. In addition to the 110 recipes, Turshen shares her thoughts on cooking & anxiety, on singing & why recipes matter, on our bodies and practical lists. Julia grew up loving cookbooks and owns a vast collection. I suspect her book will also grace the shelves of many a cookbook lover.
---
Pan Fried Dumplings
Chef Therese Harding
As long as your pantry includes dumpling wrappers and corn starch, these dumplings are the perfect after school snack or starter to a casual gathering. It's easy to improvise this recipe to suit your preferred tastes.
12 oz. ground protein of choice (ground beef, turkey or impossible meat)
1/4 c chives, finely cut
2 tsp. peeled & grated ginger
2 tsp. rice wine vinegar
2 tsp. soy sauce
2 tsp. sesame oil
1 tsp. fresh chopped garlic
1/4 tsp. corn starch
1/4 tsp. pepper
24 dumpling wrappers
In large bowl, stir all ingredients (except dumpling wrappers) together. Lay out dumpling wrapper and evenly scoop 1 tbsp. of filling onto each wrapper. Dip a finger into water and lightly wet edges and press together.
Add oil to large non-stick skillet, cook until golden brown over medium-high heat (about one minute). Add 2 tbsp. water to the pan and immediately cover the skillet to steam the dumplings. Let the dumplings steam until water evaporates (about one minute), repeat twice more. Remove the cover and let the dumplings crisp for about 30 seconds. Remove from pan to a serving dish and use dipping sauce as desired.
For dipping sauce:
2 tbsp. soy sauce
2 tsp. sugar
1 tsp. vegetable oil
Dash of Sriracha (as desired)
1 tbsp. chives & cilantro, chopped
Mix all ingredients together.