Dear Friends,
Every new year, instead of focusing on resolutions we look back as well as forward with revolutions in mind. The word holds a beautiful contradiction – it is both a regular succession of events or motion and a radical change. Over the last decade, we've continued to benefit by the reintroduction of old methods and foods into the present; ancient grains, preservation techniques, and local sourcing. At the same time, we salute the efforts of many who make changes for the betterment of others. We also look back with immense gratitude for our clients and the community who partnered with us throughout another unusual year; our supportive vendors and the incredibly talented and dedicated team of people who comprise The Classic Catering People. A special thanks to those who are working to make the world a little better:
Baltimore City's Food Matters Program
To reduce food waste and help with the 22.2% of Baltimore's population that is food insecure, a collaboration was formed between the Natural Resources Defense Council and the Baltimore Office of Sustainability with support from The Rockefeller Foundation. Food Matters-Baltimore advances food waste reduction, food rescue and food scrap recycling citywide by funding community-led solutions and programs to create linkages between food rescue stakeholders and food insecure residents.
Reduce-Reuse-Recycle
Recycling has benefits. The problem is that it takes more than tossing a used container into a blue bin to make it happen. Dispatch Goods founders Lindsey Hoell and Maia Tekle solved the problem of a lack of infrastructure to help collect these containers for reuse. Dispatch Goods set out to build that infrastructure and now collects and processes between 10,000 and 15,000 food packages a week. It is already working with over 50 customers, like DoorDash, Imperfect Foods and 50 restaurants in San Francisco. Thanks to Hoell and Tekle, they've grown their team and expanded to Baltimore! Though Dispatch Goods is mainly working with restaurant partners, it did kick off a pilot program last month targeted at consumers.
Sea Grass Sustainability
Spanish Chef Ángel León is researching a sea grass grain that he originally discovered in the Bay of Cádiz in Southern Spain. Juan Martín, Environmental Manager of Aponiente and coordinator of the Zostera Marina Project, tells Food Tank, "Zostera Marina seeds have such great culinary potential because of their similarity to other grains. One could make flour, or ferment it into alcohol, the possibilities are endless." Martín tells Food Tank "Not only would Zostera serve as a nursery habitat, but it would help clean the water and sequester carbon as well. If seagrass farms are strategically placed in coastal areas, they could help prevent erosion by anchoring sediment and reduce the impact of storm surge."
León's team is not the first to utilize Zostera Marina. The Seri community in the Gulf of California also harvested the seeds of Zostera Marina for consumption. Martín tells Food Tank that the research team visited the Seri community to learn about the grain. "Every spring, these seagrass blades wash up on shore filled with seeds and the Seri people collected them. The seed is called Xnoois within the Seri culture and has been used to create a flatbread similar to a tortilla. Though there are some barriers to Zostera Marina becoming a reliable source of food due to difficult conditions required to cultivate it, Martin is optimistic that with more research, the project will allow for new opportunities to restore sea grasses, fight climate change and improve food security.
---
Shape-Shifter
Discovering new ingredients (as well as new words) brings me joy. And inevitably once they enter my lexicon I encounter them everywhere. My first piloncillo sighting was on the drink board of a coffee and toast shop as an ingredient of iced cafe de olla. Traditionally, cafe de olla is a hot spiced coffee made in an earthenware pot with piloncillo, cinnamon, cloves and star anise. This version had piloncillo, cardamom, orange zest, allspice and black pepper and was served cold with half and half
Piloncillo is sometimes called Mexican brown sugar but that is misleading because it is a completely different product. Brown sugar is purified white sugar with the addition of molasses. Piloncillo is pure sugar with no additives. As the pressed juice from freshly cut cane boils over fires, the liquid becomes thick, dark and crystalline and then is often poured into cone shaped molds to harden. The name piloncillo derives from pylon, although the sugar is also produced in disks and bricks and can be found in many other countries in South and Central America with a host of other names.
The sugar is available as light (blanco) made from green sugar cane or dark (oscuro) made from the purple cane. The flavors differ by producer. It is used as a sweetener and as a spice. Piloncillo is less sweet than refined sugar, has burnt caramel, earthy, smoky elements, hints of rum and a mild acidic finish which balances the sweetness.
On the savory side, Piloncillo works well in rubs for pork or chicken and is good paired with meats, beans and dried chilis and vegetables like caramelized carrots. In baked goods, adding the Mexican sugar opens up whole new dimensions. It is found in recipes for Oaxacan pumpkin tamales, gorditas and the adorable marranitos, piggie shaped cinnamon all spice cookies. And the traditional Mexican beverage atole, a porridge like drink thickened with masa is also flavored with piloncillo, cinnamon and vanilla bean.
Wishing you a sweet (and spicy if that's how you like it), peaceful and healthy new year.
---
Let's Be Clear
Before refrigeration, people needed ways to keep their spirits up. Enter milk punch. Unlike egg nog, the festive other type of milk punch, this one involves a clarification process that improves the drink's shelf stability, flavor and texture. Milk punch was first created in the 1600s, reaching the peak of its popularity in the 1700s through mid-1800s. Its mass appeal was attributed to Aphra Behn, a 17th-century English writer, who mentioned the punch in one of her plays and was thought to be its creator. The earliest written record of this drink was found in a 1711 cookbook by Mary Rockett. The technique was initially used to strip the edges from rougher spirits.
Milk punch has gone through peaks and valleys of popularity during the last few centuries. More recently, there has been an explosive amount of experimentation and innovation resulting in playful new renderings. Trisha Yearwood has even put a childlike spin on an adult libation with Frosted Flakes milk and brandy – sound a little too out there for you? Let's take a clearer look at the process…
Milk clarification is a cocktail technique in which an acidic ingredient is used to curdle milk, separating it into curds and whey. The curd clumps act as filters that trap particulates, so that when a cloudy liquid is poured through them (such as a cocktail with lime juice that curdled the milk) it comes out clear. The curds stay behind and the whey goes into the clarified cocktail. This process allows for a whole lot of flavor to be contained in a beverage poured and served clear, providing the drinker with a mouth-pleasing texture and taste. Beyond the flavors, the process also allows for the beverage to be held on a cool shelf for months. It's a labor-intensive process but can be done ahead of time and ready to pour to wow your guests.
Deke Dunne, bar director at Allegory in Washington, D.C., notes that the drink has crossed over from novelty to menu mainstay. "It's part of the cocktail bar zeitgeist now," he says. His They Can't Kill Us All is a purple-hued milk punch made with a base of rum and smaller measures of bourbon, amontillado sherry and banana liqueur. The drink is clarified using yuzu and kefir, with an ube simple syrup added after clarification for color and sweetness. The finished drink is served on an illuminated coaster, the better to show off its transparent glow, which impresses other patrons and encourages them to order their own.
Try a combination at home for way to stave off these long winter months!
---
Harriet's Book Pick: Taste My Life Through Food by Stanley Tucci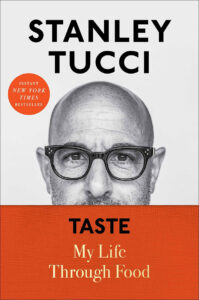 I was ambivalent at the start of Stanley Tucci's food centric memoir, Taste My Life Through Food but soon his enthusiasm and appreciation for his next good meal and the people (familial and famous) with whom he shares it won me over. The tales of his eating adventures are funny, at times opinionated (setting the record straight about true carbonara or never cutting spaghetti) and always hunger and thirst inducing. His Italian American food heritage shapes his early interest in food, his grandparent's garden, the auxiliary basement kitchen with shelves of homemade tomato sauce and his mother who he claims never cooked a bad meal. His racy story about ordering andouillette with Meryl Streep in France, his starstruck Italian meal with Marcelo Mastroianni and his disastrous first attempt to roast pig with Oliver Platt are intertwined with food adventures with his family. Whether making the traditional tímpano for Christmas, debating the best method of roasting potatoes with his British wife, or their 2020 lockdown culinary adventures with a house full of kids of all ages, Tucci's emphasis on the importance of tasty food is consistent.
Towards the end of the book, Tucci recounts his diagnosis with salivary gland cancer, subsequent treatment in which he loses his sense of taste and is fed through a tube for six months. Fortunately, there is no longer any evidence of cancer and his sense of taste is back as well. This experience leads Tucci to conclude that the role that food plays in his life eclipses the role that acting plays in his life. The memoir ends with a list of foods that he can now eat and enjoy and taste, and his thanks to those who helped him along the way.
Traditions
by Chef Mario Raymond
Cooking with Bobby Burns
"And here's a hand my trusty friend
That gives a hand to thine
We'll take a cup of kindness yet
For auld lang syne"
It's been called the most famous song to which no one knows the words. Whatever the words, the gist is obvious and the feeling around it clear: relationships are important, and old ones even more so. Songs and food are the bindings of relationships and so this had me thinking about the meaning of that song and family food traditions.
My dad was making cookies from old, yellowed index cards with my grandmother's handwritten recipes and expounding upon me that I should document them before they are no longer legible, and before no one cares about them anymore. They are simple, but technique driven recipes. An indication of a time when frugality mandated precision of hand, if not of measurements. "Two small cakes of yeast"…. well, that leaves room for interpretation. Ingredients like coconut and pecans were expensive, hard to find, and so reserved for these holiday treasures. The taste of this food, these recipes, is an instant memory of holidays in a house full of people no longer here. Happy memories of cousins, aunts, uncles, and friends, boisterous conversation and laughter. This is the joy of old songs and old recipes!
Archaic language and intuitive measures aside, the message is clear. Let us march into a new year with the joy of old friends in our hearts, and the food that brings them to mind in our bellies.
I better get started transcribing those index cards.