November 2021 Newsletter: With Love and GratitudeIn loving memory of our beloved co-founder, Michael Dopkin.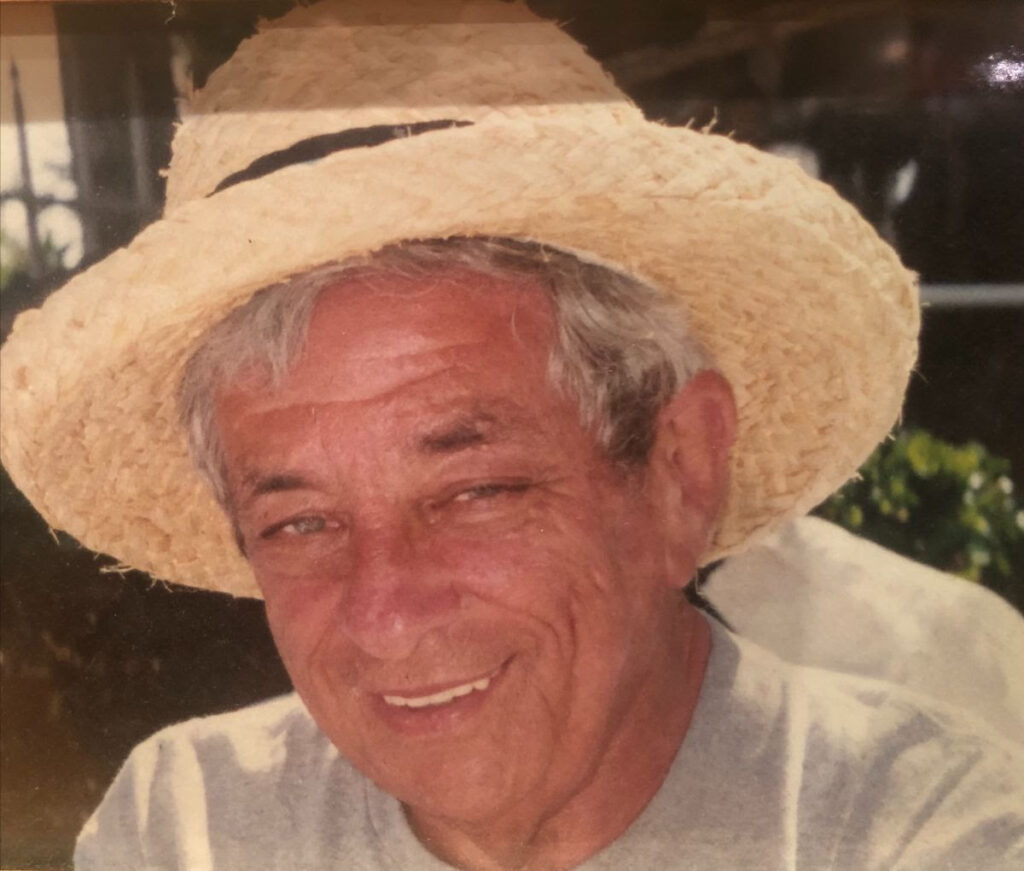 Michael Dopkin, father, grandfather, uncle, husband, and the patriarch of The Classic Catering People family passed away on October 8th.
We are comforted by his legacy which is lovingly remembered. His impact on the community and his family and friends was full of spirit and hospitality. He was one of a kind and a mentor to many. Michael will be missed.
---
More Thankfulness
A moment of reflection and gratitude-
Our team rocks. They are outrageously wonderful. Like most people we know, the pandemic shook us to our core and challenged us in ways we could never have predicted. And while the pandemic demands still engage us, our stalwart team continues to create magical memorable moments in their inimitable way. Thank you team Classic.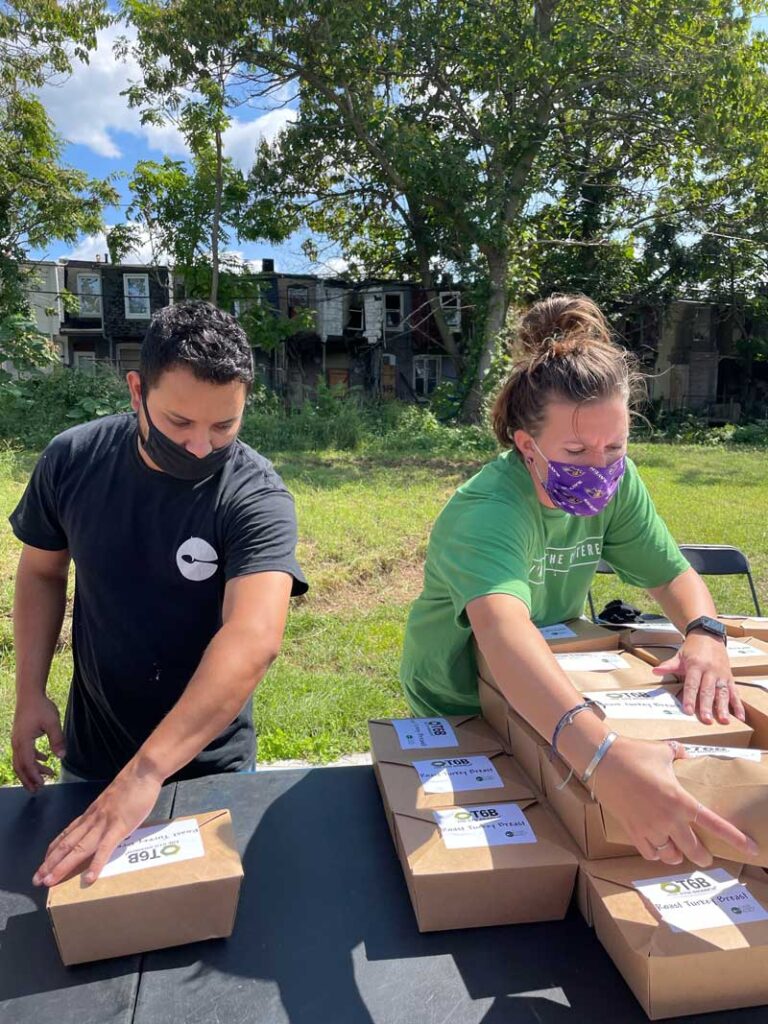 Our gratitude to our clients has only deepened after the last year and a half. Our clients gifted us with their loyalty and understanding and inspired us to think and create in new ways. Some of our relationships span decades and generations and some are new. All are treasured and we look forward to our continued conversations. Thank you.
Our vendors are incredible partners. We supported each other. We encouraged each other. Together we continue to navigate through the unpredictable spaces. It really does take a village. Thank you
And thanks to our community, Classic was able to assist in multiple food distributions during the last 18 months which touched over 2,000,000 lives, including 250 Thanksgiving meals. These partnerships were sponsored by Baltimore County, United Way of Central Maryland, World Central Kitchen, our clients, and our internal donations.
---
Harriet's Book Pick: The Kitchen Whisperers: Cooking with the Wisdom of our Friends by Dorothy Kalins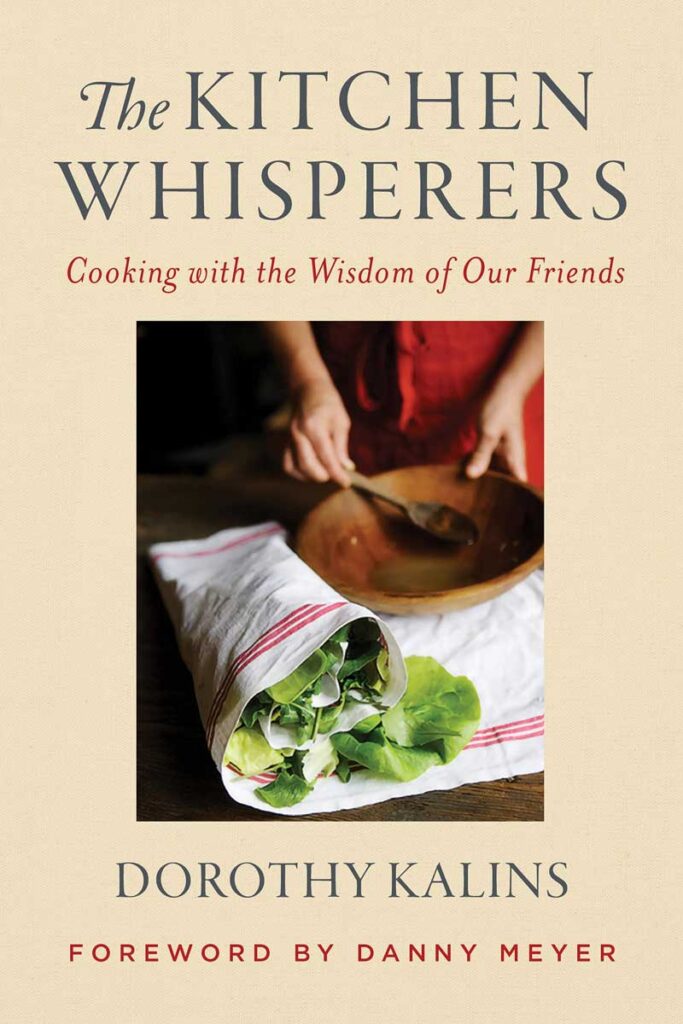 Dorothy Kalins, the co-founding editor of Savuer claims that her new book, The Kitchen Whisperers, is not a memoir but a personal book about cooking. It is filled with the rich memories that guide her in the kitchen. Kalins listens to and respects the voices in her head spoken to her by the many famous chefs and friends with whom she has cooked. They are the kitchen whisperers. Kalins asserts "We learn by memory. And by mimicry. We learn by doing."
There is only one recipe in the book. A three-ingredient biscuit made by Lola Mae, her mother-in-law for a decade. Lola Mae made biscuits three times a day for over forty years while living in rural Mississippi. As Kalins lovingly tells her story, it is easy to picture Lola Mae's kitchen with her, the White Lily flour dust and the big chipped mixing bowl. Turning out biscuits for Lola Mae was as effortless as breathing. When Kalins, who is an awkward baker, makes them years later, she makes the recipe her own, exchanging butter for Crisco and grating the butter, frozen but it is Lola Mae she is channeling and tasting the biscuit she understands the "competence that making biscuits gave Lola Mae almost every day of her life".
The Kitchen Whisperer starts with a chapter about Kalins and her mother and ends with Kalins and her step-daughter. In between are lessons from Marcella Hazan, David Tanis, Christopher Humphreys, Colman Andrews, Michael Sokolov and others. While names are dropped it is not a name-dropping book. These are the people who taught Kalins as she pursued her editing and writing career. It is a book about the purposeful act of cooking and "what and who we think about as we cook".
The instructions in the The Kitchen Whisperer might not include measurements and ingredients but will inspire anyone who has spent time in the kitchen to thank the cooking muses in one's life and maybe even pay it forward.
---
Open Sesame
I am a lover of condiments. I am fascinated by the tasty treasure trove of cuisine, history and culture that is often captured in the decorative jars. On a recent trip to Philadelphia, we stopped at Goldies, a tiny falafel spot owned by Israeli chef Michael Sokolov. Falafel sauce choices included harissa tahini, schug tahini and amba tahini. I found it interesting to note how harissa is almost a household word now, and schug is steadily appearing in more and more menus (when we wrote about it years ago, it was an unknown entity). I think amba is going to follow suit.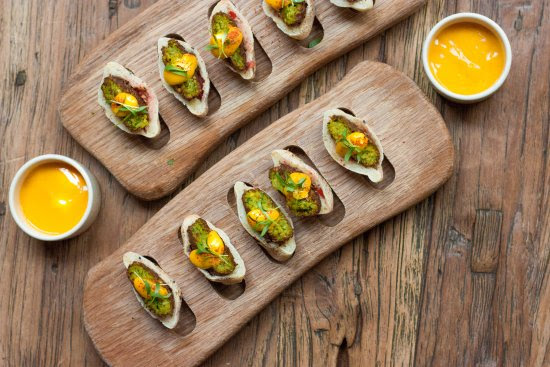 Amba is a spiced pickled mango condiment and has been described by some in the culinary world "as the Middle East equivalent of umami." Iraqi immigrants brought it to Israel, although it is thought to have originated in India. In the Indian language Marathi, amba means mango. Iraqi Jews frequently used amba in sabich, a fried eggplant and egg sandwich, but its popularity arose with their opening shawarma and falafel restaurants in Israel. The piquant tropical mango condiment balances perfectly with falafel and meats and other proteins and is popping up in creative ways in faraway cities in the States and London.
There are endless recipes for amba. Most of them require about five days for fermenting the mango and then a simmering process. Typical recipes include turmeric, mustard seed, salt, fenugreek, chili and vinegar. Interestingly, no one culture has claimed amba as its own so there is no fighting over its origins like there is for hummus. Instead, this chill condiment continues to delight newbies with its pungent charm and grow its base of peaceful converts.
Braised Lamb Shank
Chef Mario Raymond
There was a time when the bite of a fall morning chill meant communion: the early morning sun, the smell of decaying leaves and wet earth, and a cherished friend on an easy amble through the woods. Cooking is always about sharing, but more so this time of year. Here are a few recipes that can be made ahead and will travel well so that you can spend your time together, enjoying the company.
Braised Lamb Shank
For the most satisfying results find a local butcher or farm to source your lamb. Here in the mid-Atlantic we have Elysian Fields Farm (PA) and Liberty Delight Farm (MD) among others.
4 ea lamb hind shanks
2 medium carrots, washed and 1 inch dice
1 lg onion, peeled and rough chop
4 ribs celery, wash and 1 inch dice
6 cloves garlic, crushed
1 ea 12 oz can crushed tomatoes
2 qts chicken stock
1 cup red wine
2 tbsp red wine vinegar
Sachet: In a cheesecloth tie: 1 tsp black peppercorns, 4 allspice berries, 4-5 sprigs each, thyme and rosemary, 1 bay leaf.
Olive oil
Salt and Pepper
Heat oven to 325°.
Liberally season the lamb shanks with salt and pepper.
Brown in a cast iron pan large enough to fit the shanks comfortably, not crowded, over medium heat. This step will take some patience. Do not move the shanks until well browned, then turn and repeat until they are deeply browned on all sides and bottom.
Remove shanks from the pan, pour out all but about 2 tbsp of the rendered fat.
Add the onions to the pan. Stir and scrape the pan with a wooden spoon over medium heat until the onions are translucent, about 3 minutes.
Add the carrots, season with salt, cook and stir 3 minutes.
Add the celery and garlic, season, cook and stir, another 3 or so minutes until the vegetables are softened.
Add the crushed tomatoes.
Add the wine and vinegar to the pan with the vegetables, cook and scrape to release all of the good bits from the bottom of the pan. Simmer for 4-5 minutes.
Add the stock, the sachet, and bring to a simmer.
Place the shanks in a dutch oven or pan large enough hold them with the braising liquid and vegetables. Pour the liquid, vegetables and sachet included over the shanks. Cover tightly with foil and place in the oven on a lower rack. It is a good idea to put a baking sheet on the rack just below the braising pan, just to catch drips.
Cook for 3 and 1/2 hours.
This is a good time for that walk in the woods and maybe some warm cider.
Check the lamb by scooping one out with a slotted spoon and gently tugging on the bone. The shanks are done when the meat is still attached but can be pulled away from the bone with very little persuasion. Strain the stock and reserve the vegetables separately. Return the stock to the stove and reduce by half over medium heat
The lamb is delicious just as it is, but with a little more effort you can have a restaurant quality finish:
Place the shanks in a large pan and add about 8 ounces of the braising liquid. Over medium high heat continuously baste the shanks with the jus until they are lacquered and the liquid is almost gone.
Serve with potatoes, polenta, or risotto.
A Rhone valley or Languedoc is a lovely accompaniment for this braise.
For my vegetarian friends, I invite you to try this recipe with Chicken of the Woods mushrooms. Replace the chicken stock with vegetable broth and reduce the braise time to 45 minutes. Everything else remains the same, except, maybe you'll have to walk a bit faster.
---
Classic Comics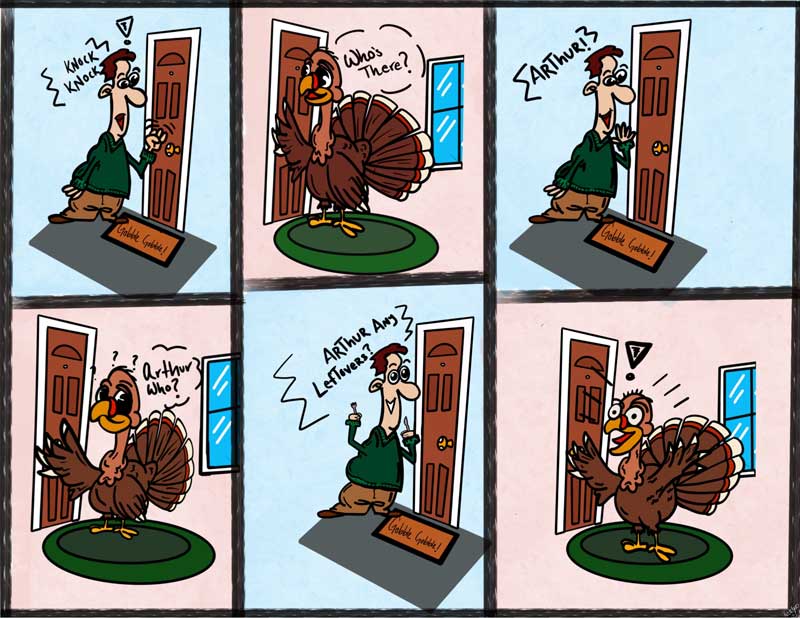 Speaking of Thanksgiving! We're ready for your order. Place your order for Thanksgiving or Hanukkah.
View our menus and give us a call: 410.356.1666
or place your order online!